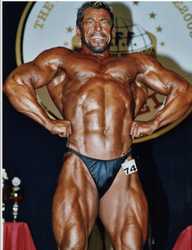 Mike Mitchell has an incredible and inspiring story.  Diagnosed with a life threatening illness, he fought back to beat it and went from being weak and thin from the chemo he had indured, went to a local gym, met a bodybuilder and went on to become a successful Action Actor and world class body builder, winning 5 time WFF World Champion Titles and is a 2 time WFF Mr. Universe!  I have posted links to articles written about him below along with excerpts from those links.  After a fall on a set in early 2010 he was diagnosed with OA and he started researching hip replacements.  Luckily a friend told him about the McMinn Centre and had his hip resurfacing on November 15, 2010.

In his own words:

"My Op was done on the 15th Nov. By Derek McMinn
I was back in the Gym at 3-4 weeks doing light exercise and dismissed both sticks at 3 weeks and then one stick at 5 weeks.
I was back on my Static Bike at 5 weeks and back doing leg workouts all beit light at 7 weeks
I now only have a slight pain when overdoing it, and ready to start a full action role as Lead actor in REVENGE starting filming 1st March. I had OA which to be honest I did not know until a fall on set in early 2010, They said the problem had been getting worse gradually and it had now become cronic. I researched hip replacements and…
Read more…
My climb back to Bodybuilding Competition ONLY 5 MONTHS After a Hip Resurfacing surgery.
On July 24, 2010, Ron Noreman Wins the Masters Division of NPC Empire States Bodybuilding Championships ONLY Five months post op from Right Hip Resurfacing surgery on January 19, 2010!
The contest is a goal, but the achievment is climbing back up the mountain once again.
Attached below is a picture, from this morning, of my quads 9 days out from the Empire State Championships. Keep in mind that this is 5 months after a hip resurfacing ( by Dr Scott Marwin) and  double- complete quad ruptures in 2002 which were reattached (by Dr Neil Watnik). I feel very blessed to have made the progress I have achieved and I'm sure there will be more to come.
Update August 27, 2010
EMPIRE STATES MASTERS CHAMPION THE HARD WAY WAY
How Ron Noreman forced his way back from hip resurfacing surgery in just five months for the win.
By John Romano
Ron Noreman is as much a bodybuilder as he's not a bodybuilder.  A lot of guys fit their lives around bodybuilding.  Sometimes to the degree that if something doesn't fit they don't make a concession; they live their lives in the gym and make as much a living as they can in and around their doing such things as personal training, diet counseling, contest prep or whatever it takes to survive. Bodybuilding comes first to these people.
Read more…